Hide's Studio Home | The Bead Site Home
Welcome to Hide's Glass Studio
Hide (Yukihide Kawakami) is a young Japanese glass artist with immense talent and business acumen. He began blowing glass in 1993 and making beads in 1995. In 1998, he opened a studio in Kyoto, Japan.
Since then he has produced an instructional video, become a teacher at the NHK Culture School in Kyoto, and opened a second studio near Mt. Fuji. Perhaps his greatest accomplishment is the invention of a torch that uses gas and air, designed to work with Japanese Satake™ glass.
I met Hide in 2000 and roomed with him at Bead Expo 2001 in Miami. He was a speaker at Bead Expo 2002. He has a successful web site in Japan, but it is difficult for non-Japanese to read it and pay for his creations. I have set up this web site to help him sell his work. I know you will enjoy looking around.
All beads shown here were made by Hide himself. He has people working for him making less fancy beads to sell in Japan, but these are all his creations. He also makes all the components (such as mosaic canes). Enjoy looking at them, using them on that special necklace, or adding them to your art glass collection. ~ Pete Francis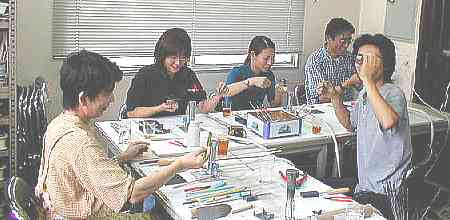 Two views of the workshop Hide (pronounced Hi-dee) teaches.
The students are learning how to make lampwound beads
using the torch he invented and Japanese SatakeTM glass.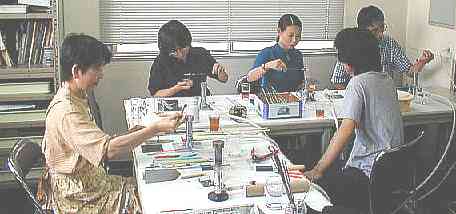 ______________________________________________
Small Bead Businesses | Beading & Beadwork | Ancient Beads | Trade Beads
Beadmaking & Materials | Bead Uses | Researching Beads | Beads and People
Center for Bead Research | Book Store | Free Store | Bead Bazaar
Shopping Mall | The Bead Auction | Galleries | People | Events
The Bead Site Home | Chat Line | Contact Us | Site Search Engine | FAQ