The Bead Site =Home>Margaretologist Galleries > Mexico Beadmaking

Margaretologist 1(4) Issue 4 1987
Beadmaking ad hoc in Mexico
Looking for beadmakers in Mexico? So was I on my first research tour there in 1987. I was persistent and documented a dozen or more.
But during the long bus ride back to the States, something kept puzzling me: why were all these "industries" new? Why was I interviewing the founder or child of the founder of this branch of beadmaking?
In time I learned that the answers to these questions were bound up with the whole sweep of Mexican history from pre-colonial times to the present.
The one exception to the rule was the amber of Simojovel. Deep in a Maya-inhabited jungle, the Spanish never penetrated its source.

Demand for amber was steady, as the Maya used it especially as amulets for children.

On the endangered list:

On my next trip (1994), there was no "tortoise shell" to be found, but in 1987
I had met one of the last of his kind.

His father and grandfather worked the material, principally as decorative combs. More modern tastes included things like this owl pendant.

Stone beads were a highlight of pre-contact Mexican jewelry, but the modern industry owes nothing to tradition, using entirely new techniques.

Many fine hard stones are available in Mexico.

So is the soft soapstone or steatite, locally called "jabonsilla." Its manufacture is also totally mechanized.

The blue color is a none too successful dyeing effort.

Mexico has rich marine resources.

The black (gorgonia) coral of the Caribbean was not yet (as of '94) endangered, but is being watched.

The tools and techniques used for making beads from it are all new inventions.

The oldest beadmaker I met was Theresa Martinez, who was carrying out her mother's work. She pierces the local Donex bivalves with an electric drill. The pearly shells (someone help with the name) may now be on the endangered list; she imported them from Italy.

Complex beads, pendants and jewelry items are built up from pieces such as these shell "leaves."

After much persuading, Roberto Ventura B. let me photograph his factory full of self-designed tools to turn out shell items quickly and accurately.

I promised not to reveal his secrets.
Clay is almost always at hand to make beads.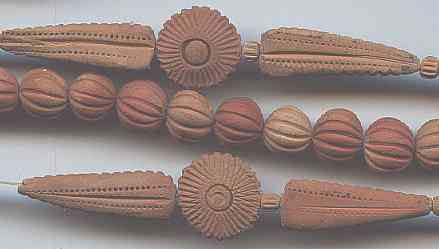 I don't know the details of this industry, except that it is in a village in Iguala State. The beads are just sun-dried. They are pretty, but fragile.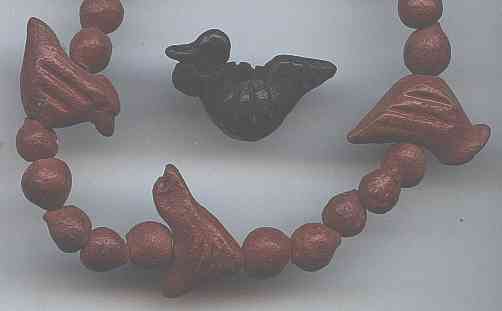 Many readers will recognize these endearing birds, particularly in black. The village famous for these beads (as well as much pottery) is San Bartolo Coyotepec in Oaxaca State. The black is so famous that...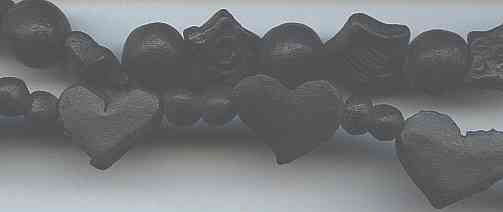 ...a poet once wrote, "San Bartolo, your clay dreams of being silver."

A national treasure to be sure, but the famous black ceramic was invented only in 1951 by the justly-celebrated Dona Rosa.

__________________________________________________

Small Bead Businesses | Beading & Beadwork | Ancient Beads | Trade Beads
Beadmaking & Materials | Bead Uses | Researching Beads | Beads and People
Center for Bead Research | Book Store | Free Store | Bead Bazaar
Shopping Mall | The Bead Auction | Galleries | People | Events
The Bead Site Home | Chat Line | Contact Us | Site Search Engine | FAQ