The Bead SiteHome>Ancient Beads>India > Arikamedu 1
Margaretologist 13(2) Issue 30 2000
The Most Important Beadmaking Site Ever
Arikamedu, India
Part 1 of 3
Shots of the Excavation, 1992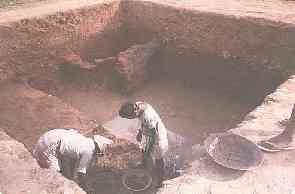 Trench VII in the Northern Sector. This was the trench that yielded the oldest material we uncovered, back to the second century B.C.
We had to stop working because we were under the water table and even a large pump could not keep the water out.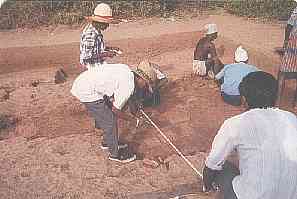 Measuring and recording a floor made of flagstones in a trench
in the Southern Sector.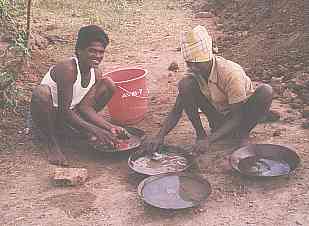 Washing the pottery as it came from the trenches.
Our helpers were nearly all people from Virampattinam,
the successor to ancient Arikamedu.
__________________________________________________
Small Bead Businesses | Beading & Beadwork | Ancient Beads | Trade Beads
Beadmaking & Materials | Bead Uses | Researching Beads | Beads and People
Center for Bead Research | Book Store | Free Store | Bead Bazaar
Shopping Mall | The Bead Auction | Galleries | People | Events
The Bead Site Home | Chat Line | Contact Us | Site Search Engine | FAQ